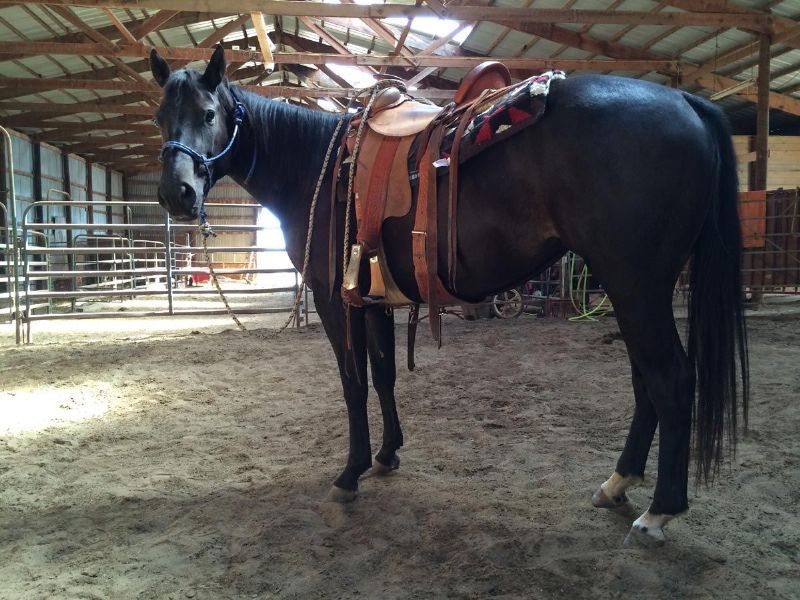 DR Irish Diamondlady
-Sire:Irish Pay(Bay) AQHA Perf. points in Heading and Heeling. Progeny earnings $6,400+ Barrel Racing
-Paternal Grandsire: Paddys Irish Whiskey(Bay) Multiple Major Aged Event Finalist, NCHA earner of $12,149. NRCHA all-time leading sire and Equi-Stat all-time leading Reined Cow Horse Sire(2016.) Progeny earnings $1.5million+, 71 ROM, 21 World Champions, 14 Res. World Champions and 36 World Top 5 finalists. 2016 Equi-Stat Top 10 Leading Reining Maternal Grandsire.
-Peppy San Badger(Sorrel 14.3h) 85% NFQHA, AQHA & NCHA Hall Of Fame, NCHA earnings $172,700+, 3 Time NCHA World Champion, #4 Leading Cutting Horse Sire of all Time, Progeny earnings $28million+
-Docs Starlight NCHA Hall Of Fame, NCHA earninngs $134,400+, AQHA Superior Perf. Horse rating, Progeny earnings $193,400+
-Preferred Pay ((Chestnut 15.2h 1250lbs)xDash For Cash) Maternal Grandsire is the famous (TB) Three Bars, Progeny earnings $8,750+ Cutting, Barrel Racing, Pole Bending, Halter and Western Pleasure.
-Docs Monkey(xGenuine Doc) Genuine Doc: AQHA P-55 Cutting,NCHA earnings $23,922, AQHA Sr. Cutting Reserve World Champion, Equi-Stat Top 15 Leading Cutting, Reining and Reined Cowhorse Maternal Grandsire, Equi-Stat NRCHA #4 Leading Sire of Sires
-Maternal Grandsire: Smoke N Sparks(Black 16.1h 1350lbs) SI-97/AAA/ROM Earnings $96,101, Equi-Stat 2016: 10yr National Leading Barrel Sire #15, National Leading Barrel Sire-all age divisions #16, Top Breeders Incentives Money #9; Progeny earnings $1,050,500+
-Dash For Perks((Black 16h)xDash For Cash) SI-93/AAA/ROM Earnings $25,814, Maternal Grandsire: Easy Jet, Sire of SI-104 Race ROM, Race Progeny Earnings $2million & Barrel Race Progeny Earnings $1.6million
-Crazy Daisy SI-87 ROM, Earnings $2,363
-Krogs Whiz Mount(Blue Roan) Progeny Earnings $79,750+ Barrel Racing
-Miss Cody Quincy(xJoe Quincy) Maternal Grandsire: Kelly Cody, Joe Quincy AQHA ROM H-21 Halter & Kelly Cody AQHA P-80 Team Roping, Calf Roping, Western Pleasure, Reining and Halter. Both Joe Quincy and Kelly Cody are Reference Stallions here at the Ford Ranch!
Irish Pay

---

Paddys Irish Whiskey

---

Peppy San Badger

---

Docs Starlight

---

Raise The Pay

---

Perferred Pay

---

Docs Monkey

---

Dr Ladybug N Diamond

---

Smoke N Sparks

---

Dash For Perks

---

Crazy Daisy

---

Dr Miss Quincy

---

Krogs Whiz Mount

---

Miss Cody Quincy

---
RON & CHAROLETTE FORD
10274 SD Highway 73
Lemmon, SD 57638
605-374-5200 or 605-490-2703
cford@sdplains.com