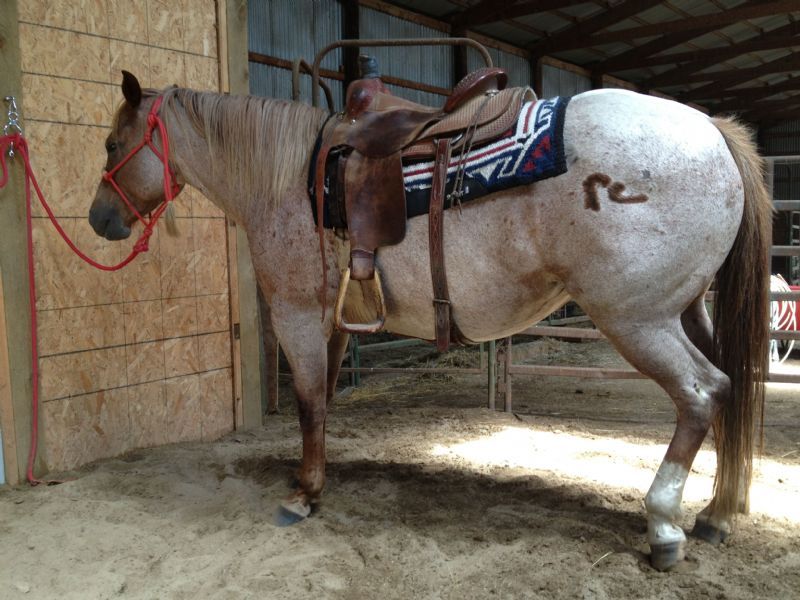 -82%NFQHA bred. Acquired as a 2yr old. Started and used as a ranch horse to 5yrs old. She is fast, catty and has a lot of heart. Her paternal grandsire, PC Bronsin(Buckskin 15.1h 1200 lbs) NFQHA WorldShow All-Around Champion. Progeny eanings $37,000+ Barrel Racing and Reined Cow Horse. His maternal grandsire, John Red is SD's1st AAA horse.
-Sun Frost(Palomino 15.2h 1250lbs) Progeny earnings $2million+. Sire of French Flash Hawk(Bozo) & Frenchmans Guy.
-Red Rockette's maternal grandsire is the great Leo.
-On The Money Red(Sorrel 103si) Leading sire of $ earning barrel horses in 91, 93, 95-97 & 02. Sire of the only horse to be both, champion race horse and champion barrel futurity horse.
-Her maternal grandsire, Sabres Little Peppy is a NCHA $ earner(xBlue Boy Doc)
-Blue Boy Doc((Gray 14.3h)x Docs PrescriptionxDoc Bar) a NCHA $ earner. Progeny earnings $49,300+ Barrel Racing, Cutting, All Roping events, Reining & Reined Cow Horse. Sired World Champions in Cutting, Roping & Pleasure. Apache Blue Boy(xBlue Boy Doc) was a Six Time NRHA World Champion.
-Also on the bottom side is My Little Midge progeny earnings of $23,000+Barral Racing
See F Red Eagle

---

PC Bronsin

---

Sun Frost

---

Red Rockette

---

See F Red Rosie

---

On The Money Red

---

Silver Candy Sue

---

Little Dakota Peppy

---

Sabres Little Peppy

---

Blue Boy Doc

---

My Darlin Peppy

---

Peppys Little Midge

---

My Little Midge

---

Peppys Cutie Pie

---
RON & CHAROLETTE FORD
10274 SD Highway 73
Lemmon, SD 57638
605-374-5200 or 605-490-2703
cford@sdplains.com